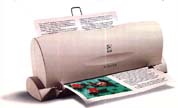 The Logitech PageScan Color is the ideal scanner for the Small Office and Home Office user and Web page builder who uses Windows 3.1or Windows 95.
Easy to install - plugs into your parallel port with a pass through device that allows you put both the scanner and your printer on the same port.
High performance - the parallel port interface was designed to take advantage of your high speed EPP/ECP parallel port.
High quality iamges- up to 400 dpi.
Color - full 24 bit color. Also does gray scale and B&W.
Multiuse- Scan images, scan text, fax documents, copy document to your printer.
Versatile - The scanner head can be removed from base for scanning bound documents.
Convenient - The scanners small footprint frees up your valuable desk space.
Easy to use - Just insert your document to start scanning. No buttons to press. No programs to start.
Low cost - Less than $400 street price.
Outstanding software - Logitech's multifunction scanner Control Center and Image Editor, Xerox TextBridge OCR, Documagix , and more...
Rave reviews - See PC World or CNET. .
---
Take a look at the Logitech PageScan Color Brochure.